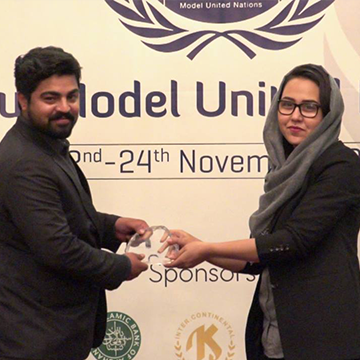 Islamic Bank of the Islamic Republic of Afghanistan sponsored the third "UN simulation" conference in Kabul.
During the three days of the conference, the speakers expressed their satisfaction with the financial support of the Islamic Bank of Afghanistan and called for continued cooperation between their organization and the Islamic Bank of Afghanistan.
Similarly, at the last meeting of the third day of the conference, while appreciating the participants of the conference, which had been well-nourished by their group, a statue or a decoration honor was given to the bank through the assistance of the Islamic Bank of Afghanistan, which Vahidullah Safi was in charge of general sales of the bank , On behalf of the bank's office, surrendered it.